Details matter for Beslag Design
Design and quality are the cornerstones of Beslag Design's business and are prominent throughout their head offices and warehouse space in Båstad, Sweden. The building, designed by architect Kay Linghoff, combines exciting details into a harmonious whole, including an interior design solution from us at AJ Products that meets the company's wishes with respect to colour, design and function.
We are very happy with the collaboration. The furniture is smart, practical and of top quality, and it does a lot to improve wellbeing.
Hans Bergström, Beslag Design
A company with good prospects
Brothers Björn and Hans Bergström have had an incredible journey with Beslag Design since they took over the business from their father in 1982. During their years at the helm, they have developed the company into an industry-leading supplier of fittings and interior products thanks to their flair and the help of their staff.

The range consists of small things that make a big difference: handles, fittings, storage and lighting for homes and offices. Their customers are mainly in the Nordic region, but interest from the continent is growing steadily and, through Beslag Online, there are no limits as to how far they can reach.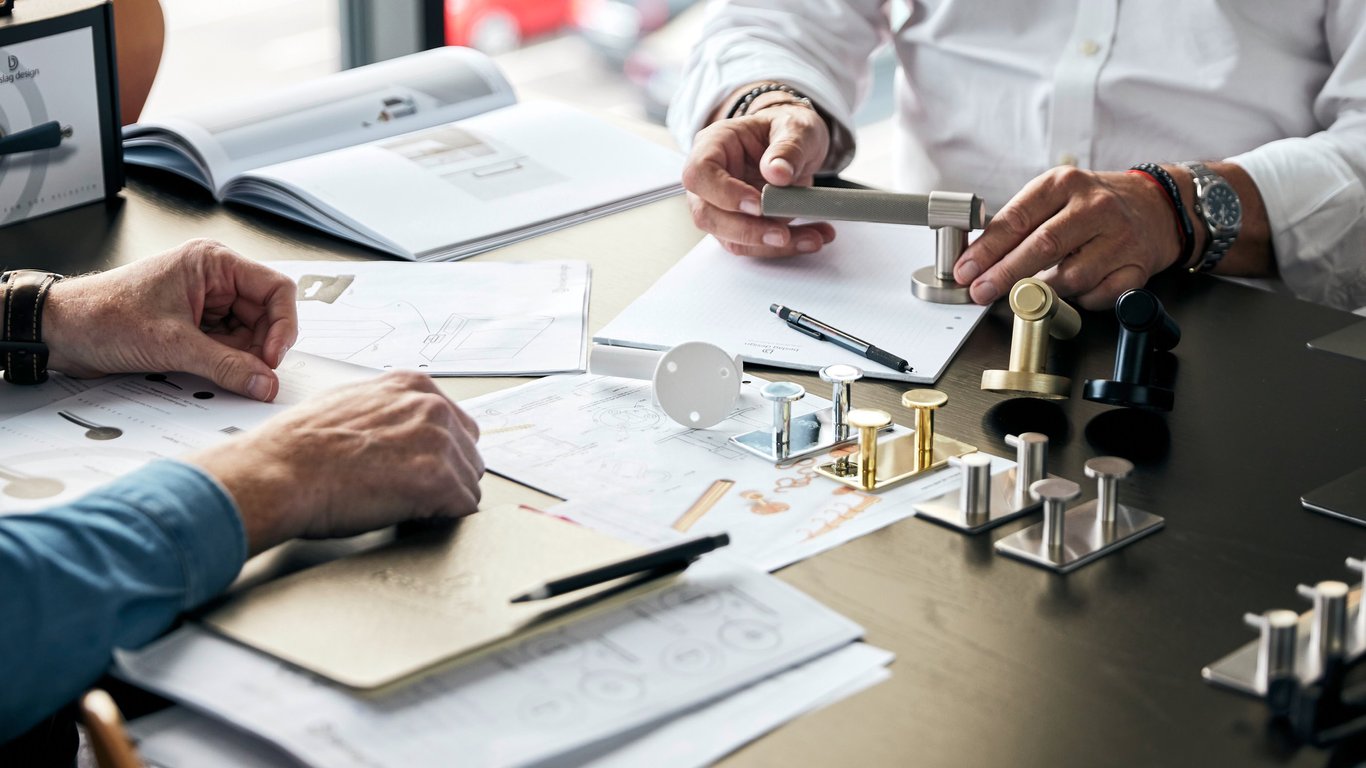 Focus on design and quality
In order to continue their aggressive investment, they decided to invest in bigger premises. Faithful to their business idea that details make the whole, they set their expectations high for the new building.

"Design and quality are important for us", says Hans Bergström. "This applies to everything, from our products and how we present ourselves to the building's architecture and the furniture we work at."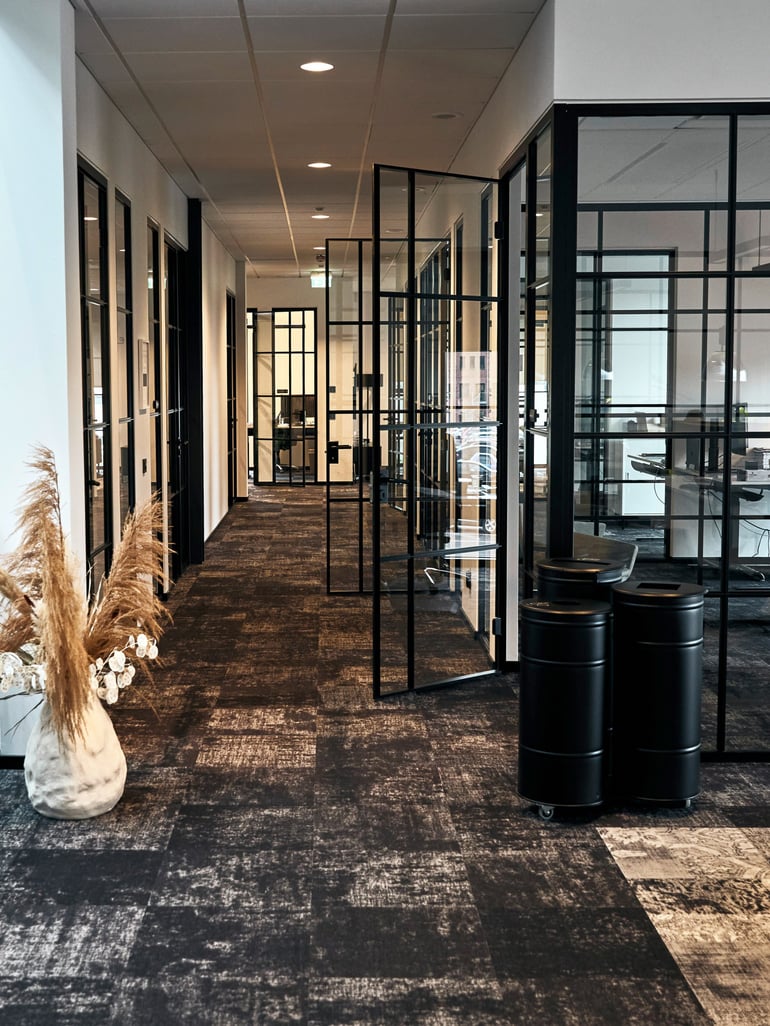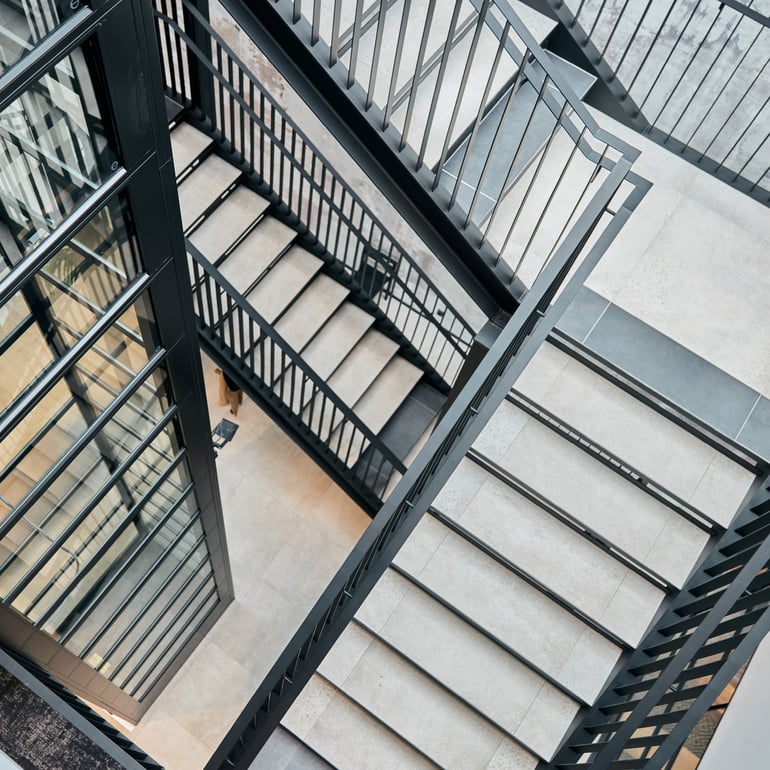 A well thought-out colour scheme
With the help of architect Kay Linghoff, they built premises where everything feels connected, on the outside and the inside. The black, white and grey colour scheme can be found throughout the property: on the outer facade, interior walls and floors, in the spectacular staircase with its lift tower and skylight, on the glass partitions and doors, as well as in the furniture and other interior fittings. The impression is stylish, calm and extremely pleasing to the eye.
High demand on us as a supplier
When choosing the interior design, very specific requirements were made with respect to the colour scheme, quality and reliability of delivery.

"It was our architect who told us about AJ Products," says Hans "and it worked quite well. They took care of everything from product proposals and orders to a punctual delivery and on-site installation."

Helena Thelander, one of the project sales team specialising in offices at AJ Products, was the one who led the work of putting together and delivering a furnishing solution based on the high requirements. ­"It was a fun challenge where we also offered special solutions to meet the clients' wishes, with good results."
Furniture for offices and conference rooms
The office spaces are fitted with sit-stand corner desks that feature a large amount of workspace, comfortable office chairs and storage cabinets where folders and documents are hidden behind sliding doors to give a neat and minimalist look.

We also supplied tables and chairs for the meeting rooms. In the largest conference room, often used as a training hall, the client opted for 12 small conference tables that can be spread out in a classic lecture layout or can also be combined together into a one large table for board meetings. A flexible and very usable solution.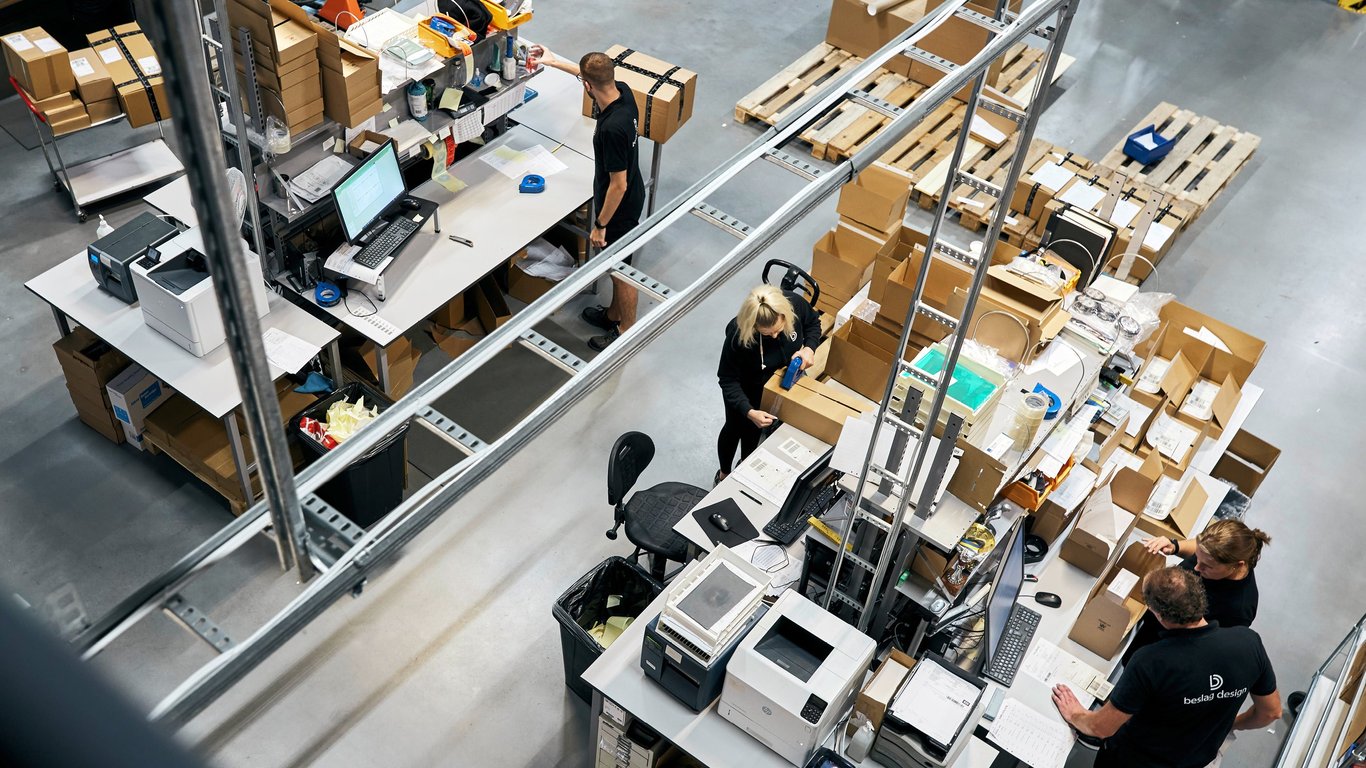 More effective processes in the warehouse
Moreover, we also provided new furniture and equipment for the company's warehouse. Outgoing deliveries are now packed at packing tables that can be easily adjusted in height to suit the heights of different employees. Add-on shelves, trolleys and other accessories that facilitate packing work were also included in the installation.

"The furniture that we have today is smart, practical and of top quality, and it does a lot to improve wellbeing. So we are very happy with the collaboration," Hans Bergström concludes.

Do you want to know what our interior design experts can do for you? Read about our project sales here.
Get help from our project design experts!
Do you need help creating the perfect office for your business? A space that is both functional and inspiring? Let our design professionals take control: from initial proposal to delivery, we can help you create your ideal workplace at no extra cost!
Get the latest product launches and offers sent direct to your inbox
Do you want to receive exclusive offers, information about new products and inspiration on how you can improve your workplace? Sign up for our free newsletter and be the first to receive our best offers!