Fujifilm's new office balances work areas with social spaces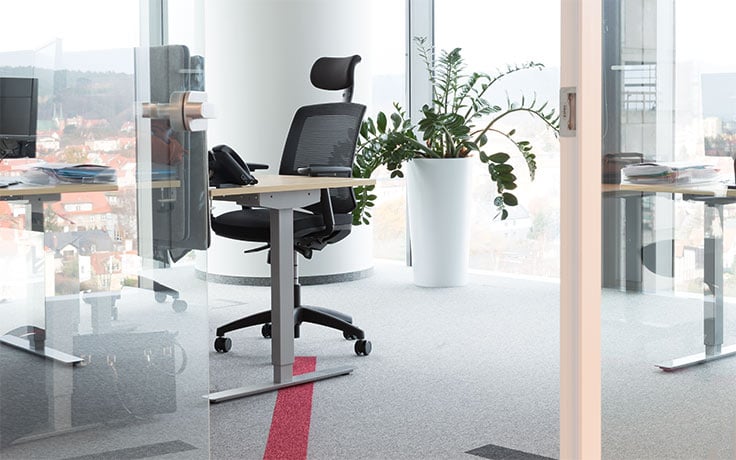 Fujifilm Europe Business Service, Gdańsk, Poland
Challenge
Fujifilm Europe Business Services' new Polish office is located in the newly-built and prestigious Olivia Star, the tallest building in Gdańsk. Their wish list for the new office space included ergonomic office furniture, acoustic solutions to reduce the noise levels, chill out areas and good storage facilities. AJ was enlisted to fulfil their needs in keeping with the unique and illustrious location.
This project also presented a challenge from a logistical standpoint. As per the guidelines set out by the building manager, AJ Products would need to deliver and install all the furniture within a 4-hour window on a given day.
Solution
AJ Products Poland developed a complete interior design solution for the office in close collaboration with the customer and the architect of the building. To meet the customer's requirement for ergonomics, all 112 desks are height-adjustable and there is plenty of comfortable seating furniture throughout the office. Canteen tables and chairs along with lounge chairs create breakout areas with glass writing boards adding a splash of colour to the walls. Together with AJ Furniture Factory, AJ Products was also able to deliver custom-designed lockers adapted to the size of the staff's laptop bags – a special request from Fujifilm.
Result
The result is a stripped-back modern workspace that fits perfectly with the building's cutting-edge design without compromising on comfort for the staff. The entire office is furnished in warm colours and there are numerous natural elements. Height-adjustable desks allow the staff to switch between sitting and standing during the workday to improve employee wellbeing and provide greater flexibility. All the desks are fitted with desk screens that are A-rated for sound absorption to help keep the noise level down and provide privacy at each workstation. The different seating options, such as bean bags and comfortable armchairs, encourage social interaction in the office.
What about the installation? "Several companies were moving into the building on the same day and we only had four hours to empty two trucks and get the goods up to the eleventh floor, using only one elevator. It was a difficult logistical challenge, but we managed it and were able to complete it all on time", says Błażej Buraczewski, Sales Manager at AJ Products Poland.
Get the latest product launches and offers sent direct to your inbox
Do you want to receive exclusive offers, information about new products and inspiration on how you can improve your workplace? Sign up for our free newsletter and be the first to receive our best offers!