What are the best office colours for productivity and wellbeing?
Studies show that colours affect both our mood and our productivity at work. But which colours should you choose and how are we affected by them? Here is everything you need to know about colour to create a harmonious workplace.
Sit-stand desks, ergonomic office chairs and optimal lighting: there is a lot to think about to create a good working environment. It would be easy to forget about the colour scheme, but colours are just as important as they affect our senses. Did you know, for example, that red can make us more productive but simultaneously more stressed? Moreover, contrary to what many people think, chalk white is the worst colour to have on walls as it reflects up to 96% of light, which can be stressful for the eyes and therefore make us tired and give us headaches. An optimal reflectance value is instead somewhere between 70% and 80%, i.e. quite far from off-white.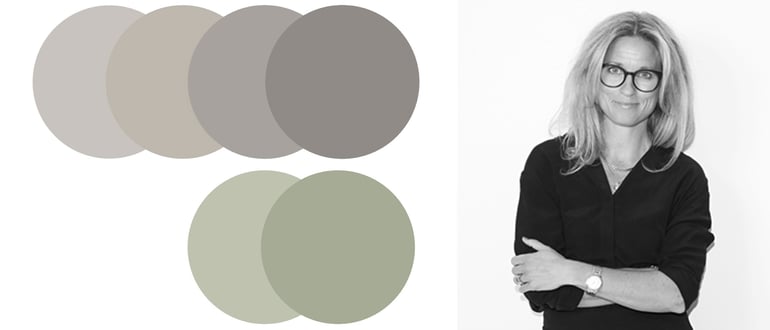 "Chalk white walls can also feel cold and impersonal in an office. Choose warm grey tones instead. They work for most places, leaving a neutral and warm feeling," says Ulrika Sjöö Wiberg, interior designer for AJ Products.

Warm grey tones, from top left, NCS codes: S2002-Y, S2502-Y, S3502-Y, S4502-Y.
A tone-on-tone colour palette, from bottom left: S2010-G40Y, S​​3010-G40Y.
Which colours should be used to create a pleasant office where people want to come to work?"
"Dirty pastels work well with office furniture in wood colours as well as black and white. If you want to create a harmonious impression, one suggestion is to work with a tone-on-tone palette. If you are looking for contrasts, you use light colours together with darker ones."
Choose the right colour in the right place
Not many people think that colour and psychology belong together. However, colours can have a positive impact on energy levels in the office, helping us to feel more relaxed and be more productive.

For example, you can combine white and beige with blue tones. Blue is a calming colour that helps make us more focused and creative. Purple is also a good fit in an office environment as it balances rest and activity.

We all know going green is a good thing! Well, it's also true when it comes to interior design. Green is a stress-relieving colour and makes us feel safe and at ease. Both blue and green are colours with a positive energy and are a good choice when you are looking to decorate a larger office space. Why not choose green or blue office chairs instead of black or grey like most people do?

Green symbolises nature, health and environmental awareness. The colour fits in all rooms, both large and small, as it creates balance and has a refreshing effect. According to feng shui, green represents nourishment and helps stabilise the body, both physically and emotionally.
Dare to go bold with wall colour or invest in colourful details
Yellow catches our attention and stimulates the brain. If you want to create a creative meeting room, yellow is a safe bet. Be careful not to bring out the bright colour in an open office space though. Not everyone likes it. If you get it wrong, the dazzling colour on the walls can be far too severe instead of a lovely splash of colour. An alternative to yellow walls would be to opt for yellow furnishings, such as acoustic wall panels, a sofa or glass writing board, that perk up the room without taking over.

"Strong and powerful colours generally create a harsher look and feel and can be a bit too much. Instead, bring them in as an accent colour on textiles or fixtures for example while avoiding walls."

But before you dip the brush in the paint or buy new office furniture, it is important to talk to your employees.

"With the help of colour choices, you can influence the company and the company's profile. What signals do you want to send out to employees and visitors? How do you want to be perceived as a company? When creating office environments, it is important to look at the whole picture. You need to make sure that everything is connected and has a consistent thought in terms of colour, shape and material," says Ulrika.
Combine colours for a harmonious workplace
Get the latest product launches and offers sent direct to your inbox
Do you want to receive exclusive offers, information about new products and inspiration on how you can improve your workplace? Sign up for our free newsletter and be the first to receive our best offers!