Think function and flexibility to plan an effective office layout
Can any ordinary office give the best possible conditions for everything that needs to be done on any given workday? Yes, if the office space is divided in zones with different functions and degrees of focus, from socialising in breakout areas and collaborating in conference rooms to working undisturbed at individual workspaces or in smaller meeting rooms. Here are some tips on how you can plan the office to create a better work environment for all your colleagues.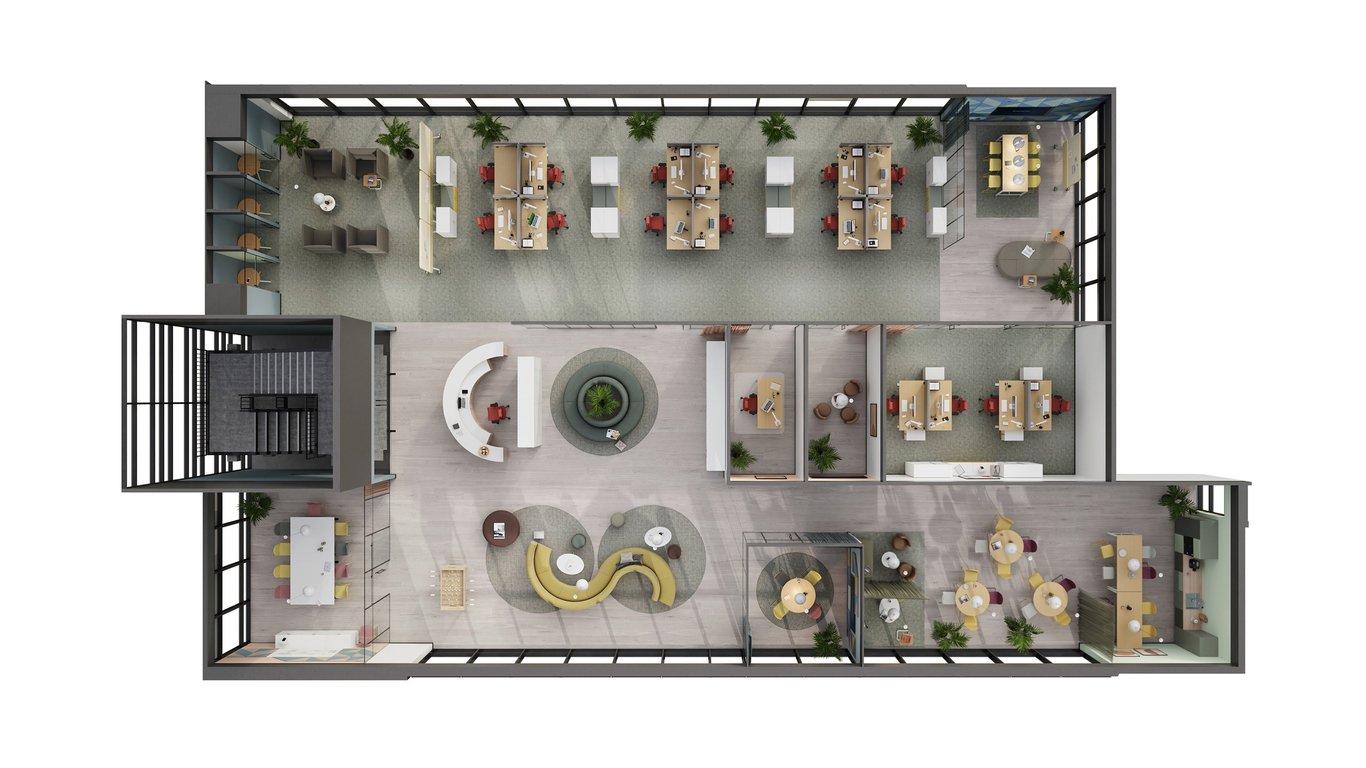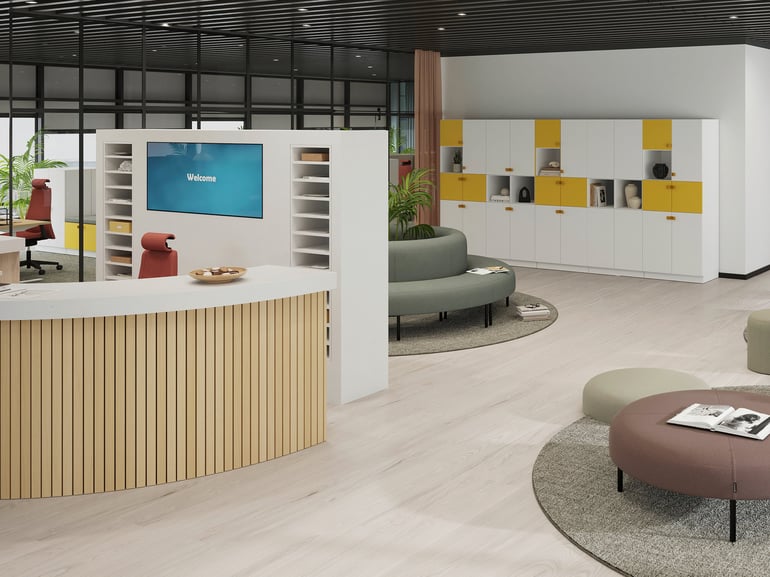 A welcoming reception area for clients
Let's start in the lobby: the reception area is, primarily, a meeting place. Employees, clients, suppliers, couriers - everyone is received here! Since this is a busy area that can get very noisy, offices and other spaces that demand quiet and concentration should be located some distance away. On the other hand, it may be ideal to have a conference room near to the entrance, so that staff are not interrupted by visitors coming into the office for meetings.

So how can you design an entrance that makes a good impression? By taking good care of your visitors! The best way is to have a staffed reception that welcomes and guides your guests. What if you don't have a reception area at all? Put up clear signs so that first-time visitors immediately understand where they have to sign in and don't get lost.
Socialising, meetings and games in breakout spaces
Let the entrance merge into a lounge area with inviting soft seating furniture. This provides versatility and enables guests and employees to share the space. As well as coffee breaks and socialising, a lounge is also great for informal meetings with colleagues and customers.

If there is space, you can add a playful feature, such as a ping pong or air hockey table, where co-workers can take a short break and get their heart rate up. Exercising and thinking about something else brings joy and energy and can help to improve performance. Moreover, a moment's relaxation with colleagues enhances team spirit.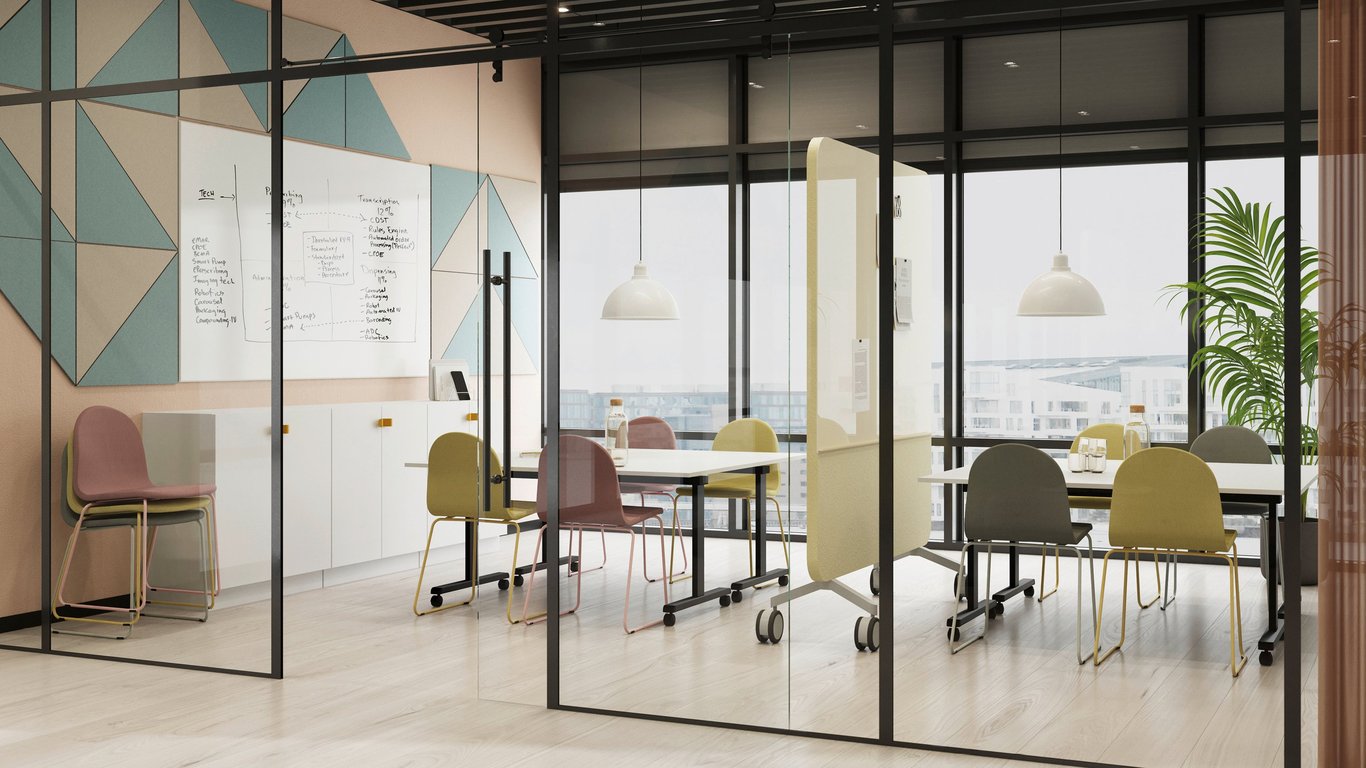 Versatile conference rooms for seating large groups
A large and classic conference room is perfect for client presentations and board meetings, but you can still furnish it in a versatile manner to derive maximum benefit. If you opt for stackable chairs, you can easily put them away when not in use so the space can be used for other purposes. Choosing several small folding tables instead of one large one makes it easy to rearrange the room from a traditional meeting room into an auditorium, workshop space or small meeting area. In addition to a wall-mounted whiteboard, why not try mobile writing boards to facilitate group work?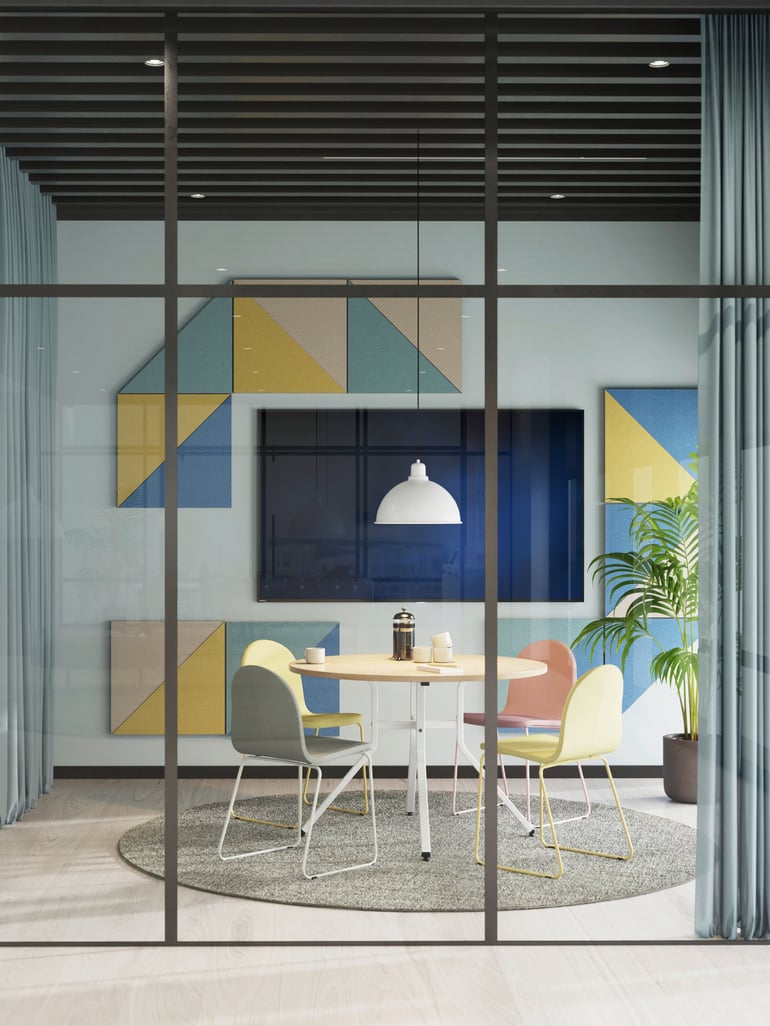 Small huddle rooms for small gatherings
A work week includes lots of different types of meetings, from confidential discussions to brainstorming sessions and quick catch-ups, and many of these take place at the same time. Therefore it is useful to have several small meeting rooms, preferably close to desk spaces in order to minimise the movement of people around the premises. These rooms are also suitable for working alone on tasks that require a high level of concentration and for participating in virtual meetings so as to avoid disturbing your nearby colleagues.
A landscape for hybrid work and collaboration
Does your company combine home working with office work? In that case, an office layout without allocated workspaces is a smart choice that provides greater flexibility. Employees can simply choose an unoccupied desk in the morning, plug in their computer and they're all set! An open plan layout with flexible furniture is also suitable for permanent workstations where staff work closely together in teams. In both cases, you may need a separate meeting space nearby that can be used for quick meetings so as to avoid disturbing others. Printers and coffee machines can be placed centrally for the best flow and efficiency.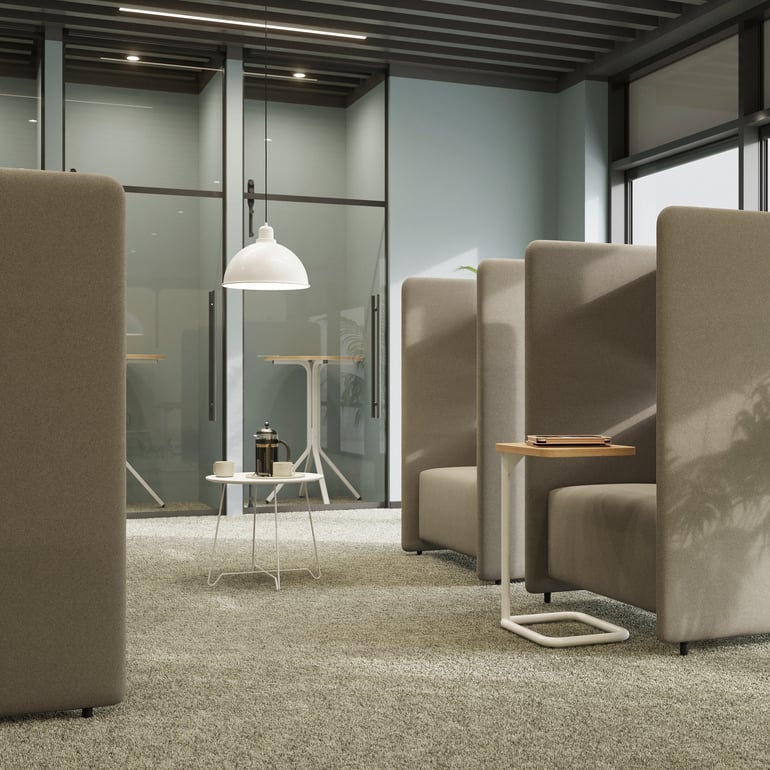 Open spaces made personal
Think about comfort and wellbeing in the office. Divide the space using storage furniture and floor screens to create more private personal spheres and use carpets and acoustic panels to achieve a pleasant soundscape. Supplement with small quiet rooms or pods that facilitate undisturbed conversation. Don't forget to make the most of any daylight but take care to position desks and computer screens so that the light doesn't fall directly on the workstation to avoid glare and reflections.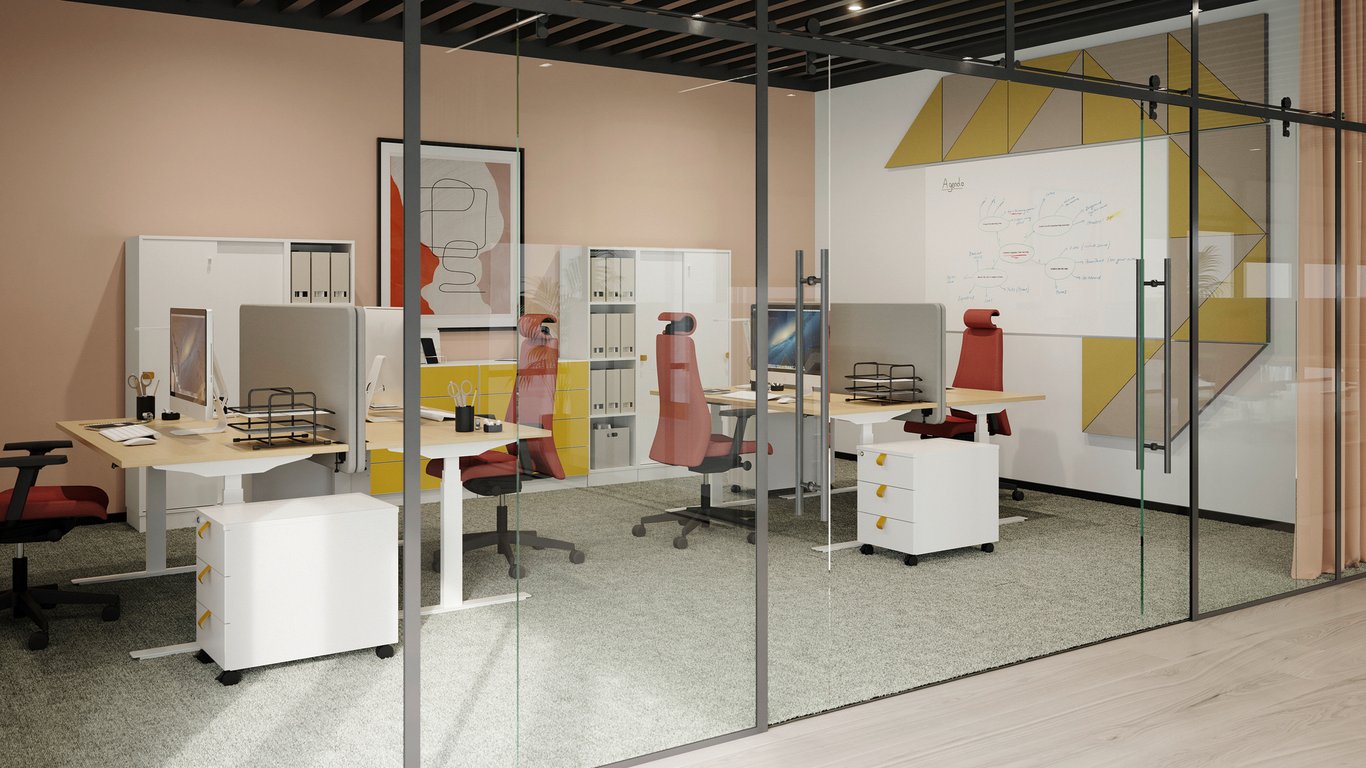 Smaller work areas for better focus
Does your office have separate rooms? If so then first priority should be given to employees who need to work undisturbed or who work in the office full time and need a permanent workstation. Depending on their size, these rooms could be shared by several people but it's important to consider who should sit together to make sure that people are grouped with others whose tasks require similar levels of concentration.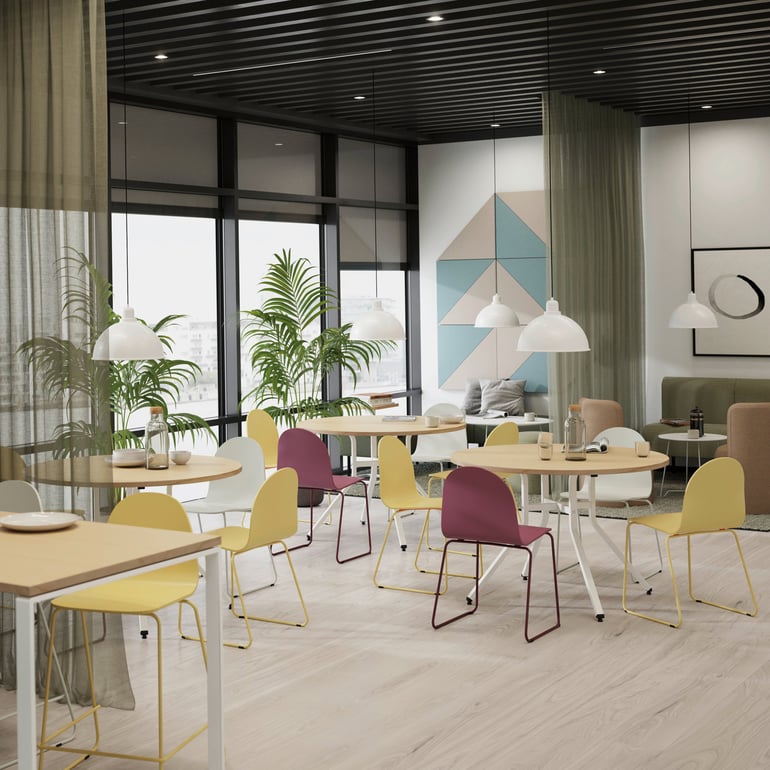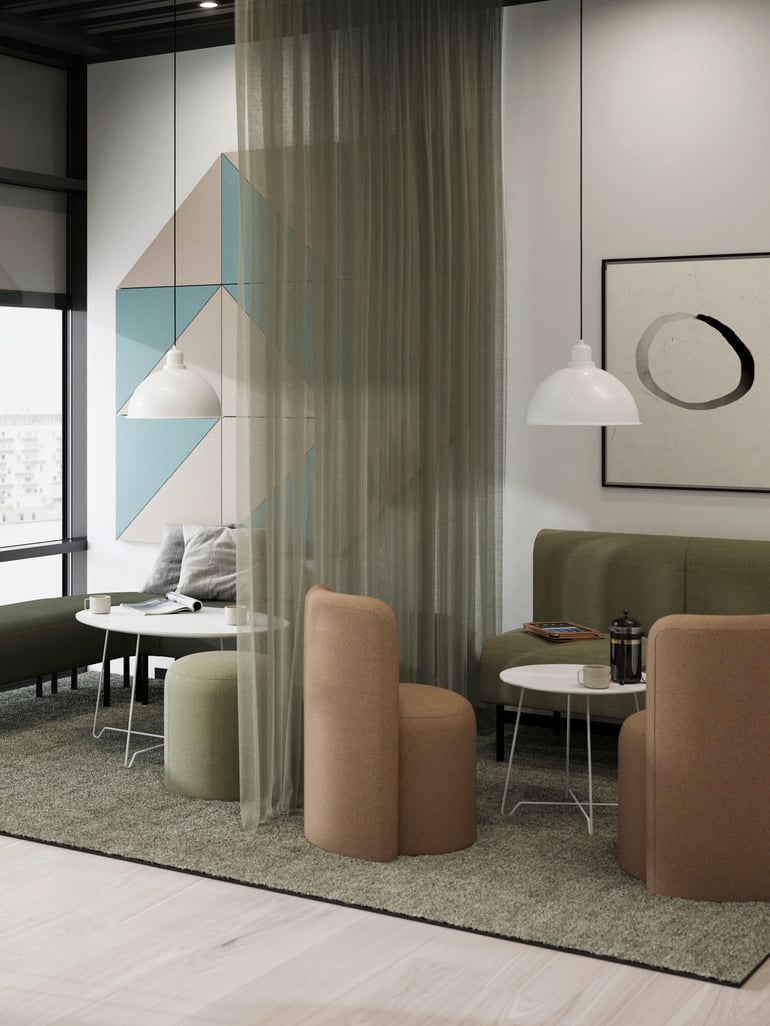 Canteens that suit multiple purposes are used more
Do you use the canteen a few times a day to take a break and refuel? Is it empty at other times? Then you have an underutilised resource, which, with a couple of additions such as whiteboards, soft furnishings and floor screens, could be used from morning to evening. Take the opportunity to create an adaptable space that, as well as lunch and breaks, can be used for casual meetings and individual work sessions.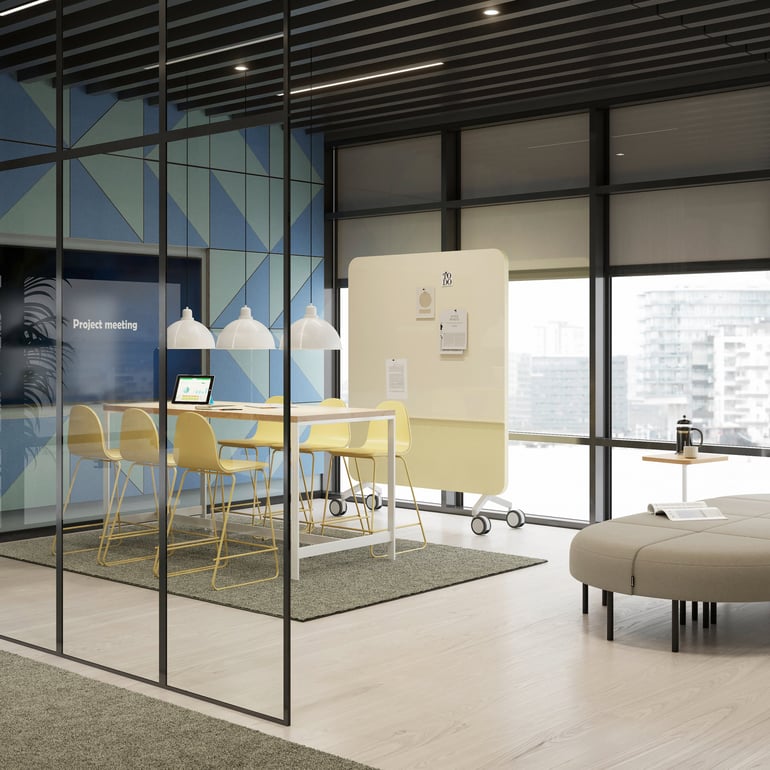 Think function, flow and flexibility
The key words for successful office planning are function, flow and flexibility. By planning for the specific tasks the space is used for, factoring in how people should move around the premises and designating more than one function to each room, all offices can be improved. Dividing the office space into zones with different degrees of focus e.g., individual work, meetings and relaxation, is the ultimate way to create areas for everything and everyone at the office.


Do you want to help creating a well-planned office? Contact our project design team.
Get help from our project design experts!
You can always turn to us at AJ Products if you need help with a project design solution customised to your business. Contact us if you have questions about particular products, are looking for suggestions that would best suit your premises or want help planning your space. Get in touch and we'll help you find the best solution for your needs.
Must haves for your well-planned office
Get the latest product launches and offers sent direct to your inbox
Do you want to receive exclusive offers, information about new products and inspiration on how you can improve your workplace? Sign up for our free newsletter and be the first to receive our best offers!