School furniture that makes a difference - building a welfare society on a micro scale
In one of the world's poorest countries, a small village has taken remarkable steps forward in recent years. Pauline Conde has been involved in the entire journey. She started as a preschool teacher and is now the operations manager for a school with 450 students, healthcare facilities, infrastructure investments, and several businesses.

"It is the younger generation that drives the change," she says.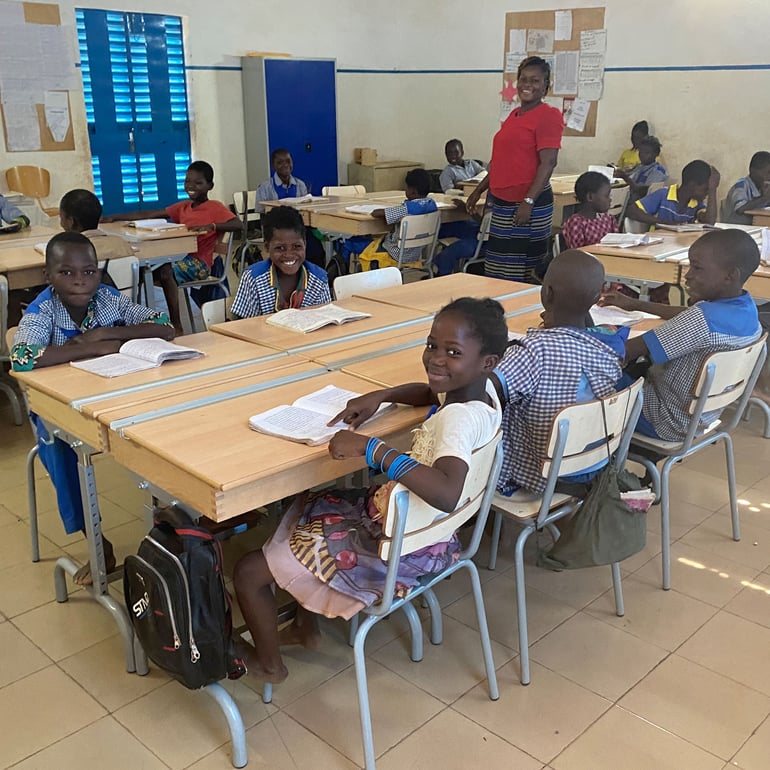 An hour east of the capital Ouagadougou, there is a small village that captures the interest of Burkina Faso's authorities and ministers. In recent years, the village of Nakamtenga has developed into a model community in a country that lacks welfare systems, and where around half of the population is illiterate.

The starting point was in 2001 when the village's women decided they needed a preschool. Now, just over 20 years later, Nakamtenga also has a health centre, dental clinic, farms, several businesses, not to mention the pride of the village: a school with 450 students from preschool all the way through to high school.

"The school is so important; it's hard to put it into words. Giving children a good foundation to stand on makes us believe in a better future," says Pauline Conde.

In 2001, she started as a preschool teacher at the very first facility in the village. Today, she is the local operations manager for the Yennenga Progress network who oversee operations in the village.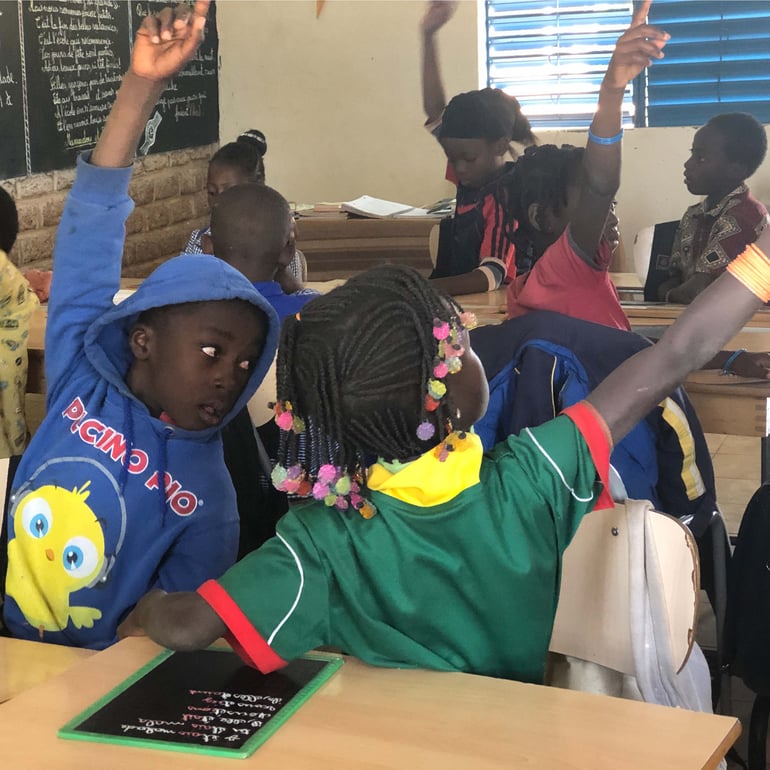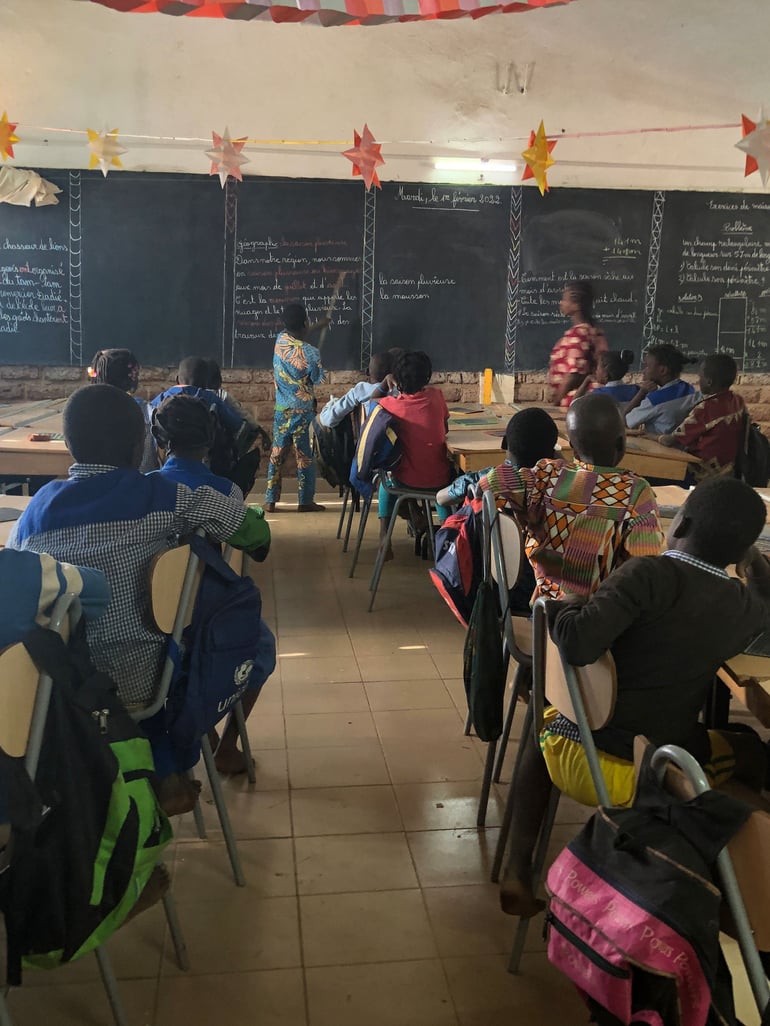 The younger generation drives the change
The elementary school began construction in 2006 and has grown step by step.

"We encourage children to be curious, but public school teachers perceived our children as cheeky because they asked questions. To ensure our children didn't fall behind, we needed our own school that was based on the teaching methods we used in preschool, with a focus on creativity and curiosity," says Pauline Conde.

Over the years, a health centre has also been built in the village. It works closely with the school to keep students healthy. During malaria season, the children have to go there constantly, says Pauline Conde.

"Without the school, we wouldn't have seen the other developments in the village. Everything has grown from there, and it's the younger generation that drives the change."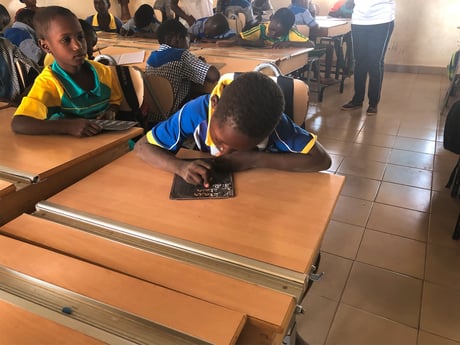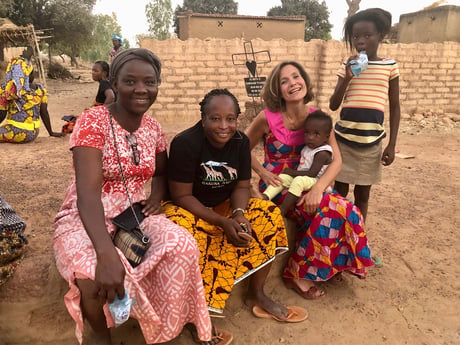 Building the village with local resources
One social change that has occurred over the years is that parents in the village value education more. Another is that the gender distribution has become more even. When the first preschool opened, there were more boys than girls.

"Many of the parents didn't get to go to school when they were young. But today, it's so clear how the children develop that we have a waiting list of children who want to start," says Pauline Conde.

Stina Berge, the secretary-general of Yennenga Progress, sees the school as the hub of a project that includes the entire village but also extends far beyond its boundaries. The goal is to create sustainable communities with a strong local entrepreneurial spirit.

"We look at all 17 of the UN's global development goals and solve them at a local level. It's not just about education but also things like ensuring access to clean water and energy, creating infrastructure and jobs, and, not least, the organisation and leadership that will ensure sustainability," she says.
Lunch lays the foundation
In the village school, the days are long and filled with lessons, homework, and activities. For the headteacher, Bernadette Pafadnam Pacmogda, work starts at seven in the morning as she helps the teachers plan lessons, which continue until five in the afternoon.

"But being with the children is the most fun and energising part. That's when you see that the goals you've set actually bear fruit," she says.

One focus area is to provide children with a good and nutritious lunch every day.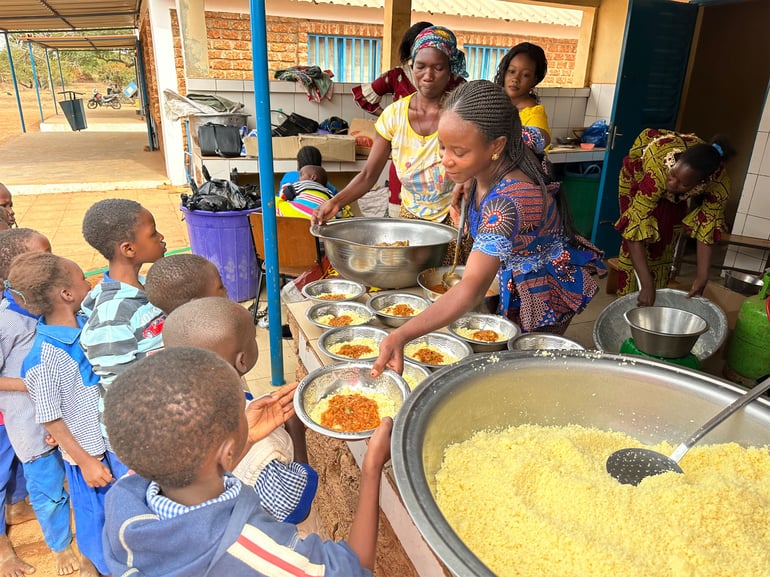 "When the children start in our school, many are undernourished. Here, they get at least one proper meal a day. It has enormous effects on their growth, development and resistance to diseases," she says.

At home, most people speak the Mooré language. But in Burkina Faso, the language of instruction is French.

"We follow the local curriculum, of course, but we have also been inspired by Swedish teaching methods. Curiosity and creativity are the focus. That's not how it looks in traditional schools based on a French hierarchical model," says Bernadette Pafadnam Pacmogda.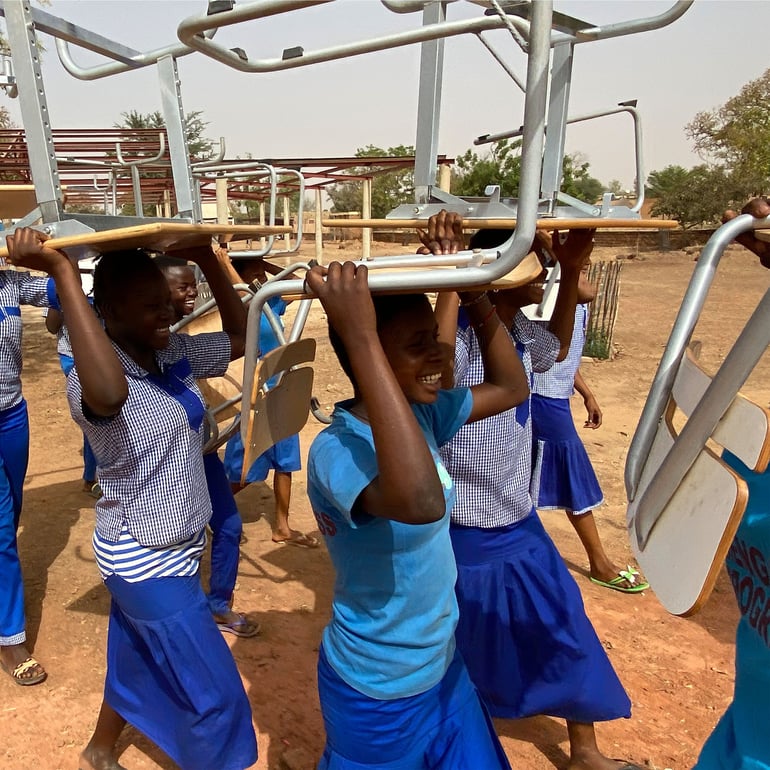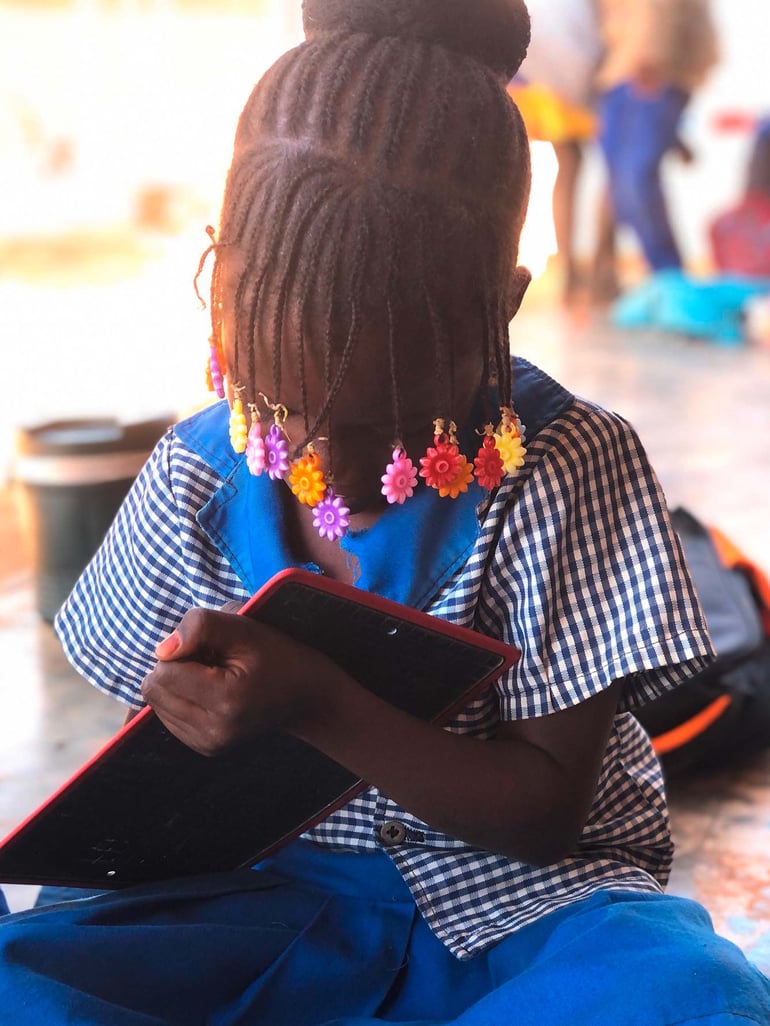 From the Nordics to Nakamtenga
Another connection to Sweden is the school furniture. All classrooms have desks, chairs, and metal storage cabinets from AJ Products, which has been collaborating with Yennenga Progress since 2012.

"It's easy to donate money but we want to be able to follow up and know that our contribution makes a difference. This is also a win-win situation because Yennenga Progress has a good network that has helped us in various ways," says Fredrik Hentz, who has project-led AJ Products' efforts in Nakamtenga.

In a country like Burkina Faso, which has very limited industry and no forests, it's difficult to find and manufacture quality ergonomic furniture locally. When choosing functional furniture, it is necessary to also consider the constantly swirling blanket of red dust, as well as the extreme humidity during the summer and the extremely low humidity in winter.

That said, it's not an easy task to send furniture from the Nordics to West Africa. It takes two to three months for the delivery to arrive, and it's expensive.

"The furniture we send down must have steel legs so that they are raised from the floor. If they are made of wood, termites start eating them," says Fredrik Hentz.

The headteacher, Bernadette Pafadnam Pacmogda, thinks that the standard of her classrooms cannot be compared to most other schools.

"The children sit comfortably and safely. In other schools, the students are packed together, which affects concentration. Here, the children have their own desks and drawers and can keep track of their things. They are very happy and proud to have their own space because most of them live in cramped conditions at home," she says.

Read more about the great work Yennenga Progress does and how you can contribute at yennengaprogress.se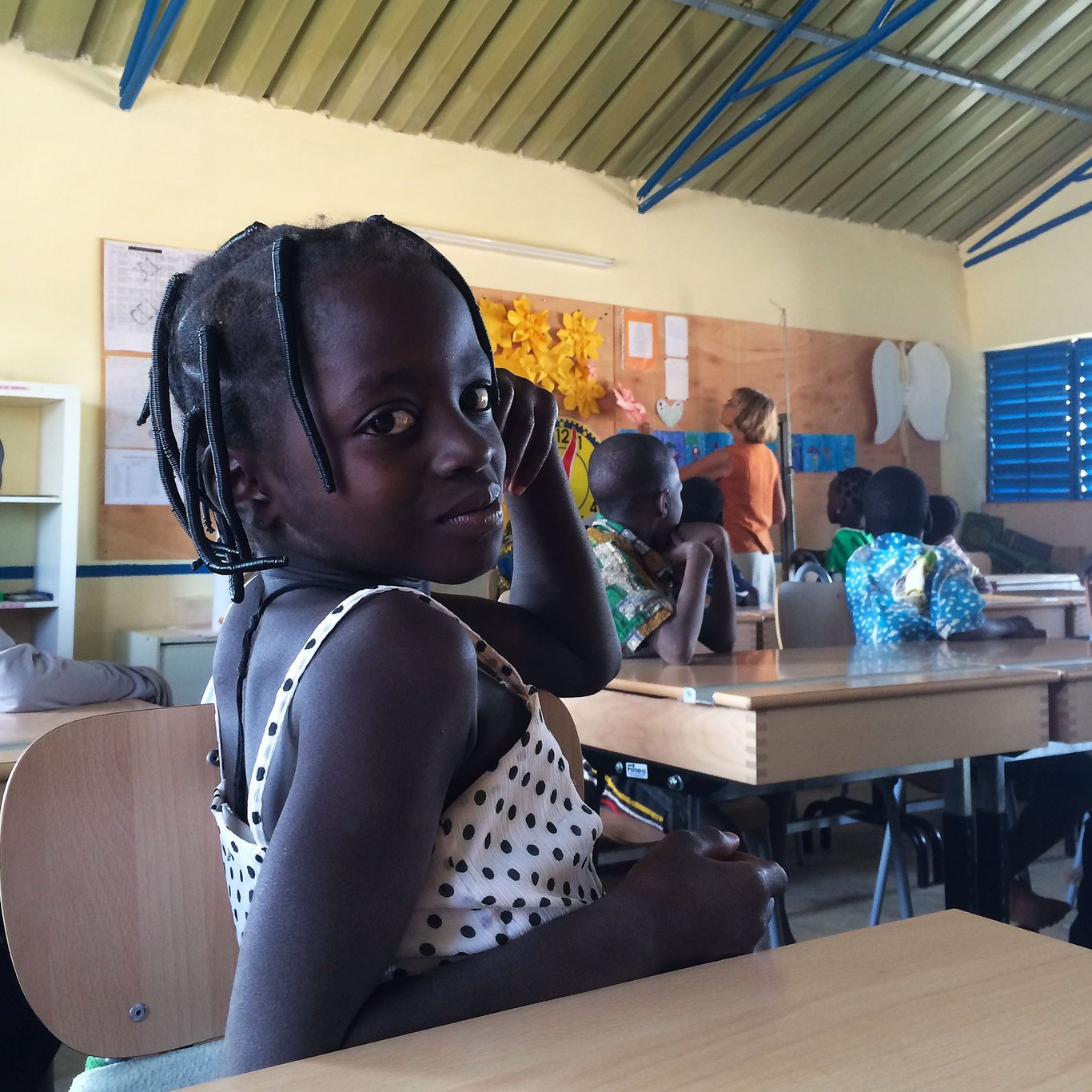 This is Nakamtenga
The village of Nakamtenga has 1,500 inhabitants and the Swedish-founded Yennenga Progress network has 80 employees in healthcare, preschool, school and agriculture, plus five companies in welding, carpentry, construction and textiles, as well as restaurant and conference activities for training and seminars. New projects are based on needs assessments for the village. They are not only targeting the village residents - participation is open to everyone.

The village school teaches 450 children in preschool, primary school, secondary school and high school. Since 2012, AJ Products has been collaborating with Yennenga Progress to furnish all of the school's classrooms with Swedish furniture and by paying the headteacher's salary. The goal is to contribute to social sustainability in a product-oriented way.
Get the latest product launches and offers sent direct to your inbox
Do you want to receive exclusive offers, information about new products and inspiration on how you can improve your workplace? Sign up for our free newsletter and be the first to receive our best offers!