Introducing QBUS – comprehensive storage for innovative offices
Bring your office storage up to date with our exclusive new QBUS storage range: a multi-functional and adaptable, modular office storage range where storage and design go hand in hand for optimal organisation. QBUS is designed to suit every part of your space so you can create a harmonious and matching interior throughout your entire workplace, regardless of the size of your company or your storage needs.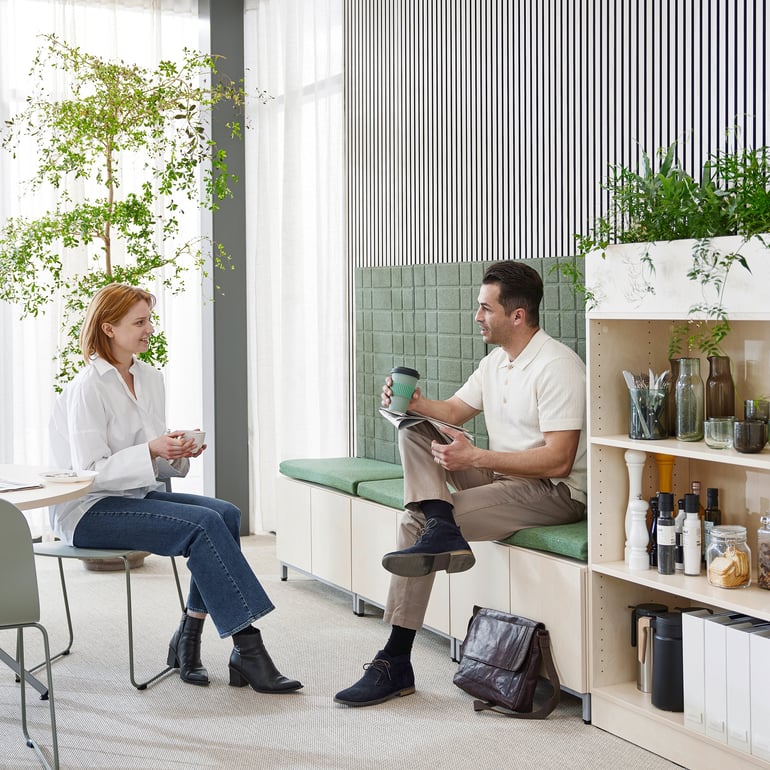 From reception to workspaces
When we developed the QBUS storage range, we did so with the intention of ​​creating a furniture series that fulfils almost all the storage needs a business could have in their office premises. It was designed to suit business of all sizes: big or small, starting up or expanding. 

QBUS provides a complete offering of storage furniture for today's office needs. The series features classic storage furniture such as bookcases, cabinets and practical mail sorting units as well as innovative new options such as storage combined with a comfortable seating area and lockable personal storage. One big advantage of QBUS is that it provides matching storage throughout your entire workplace, so you can create a harmonious style for everything from office supplies you access every day to cups and glasses in breakout areas to personal belongings you want to store securely in the cloakroom or foyer.
Anna Helgesson, Product Manager for Communal Spaces at AJ Products, explains that AJ saw a need for a storage range that connects work areas and shared spaces in offices.

"In an increasingly digitised society where corporate offices and common areas are growing together, we wanted a furniture series that could meet that demand. For example, allocated desk spaces are no longer a matter of course, so there is now a need for increased personal storage, both for personal belongings and also laptops and desk essentials."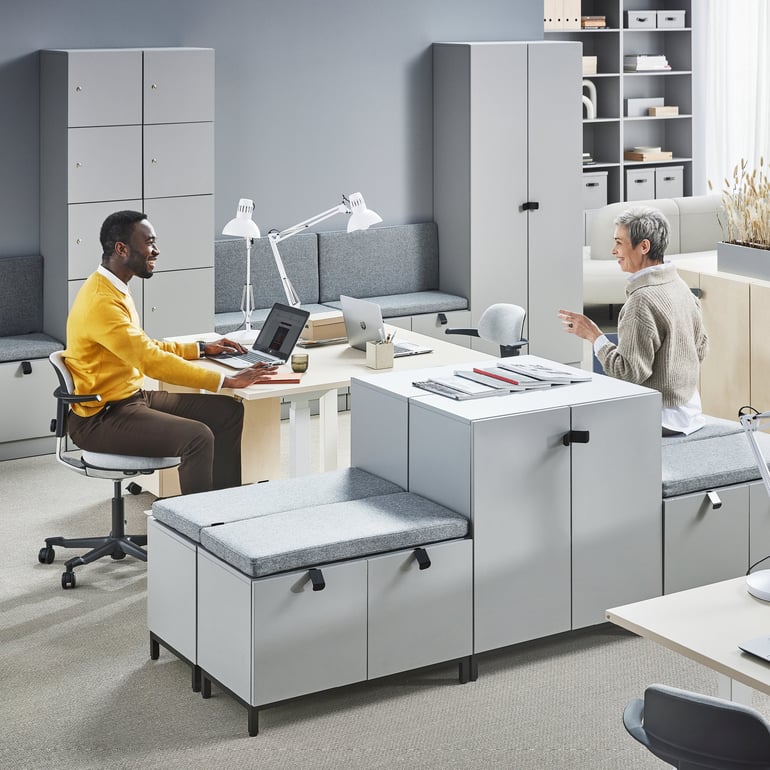 Create combinations that suit your business
The QBUS range is has a classic design that makes it suitable for many different locations and easily blends in with your existing interior design. The key to QBUS providing you with a little bit more than other storage furniture ranges is the wide range of options on offer, which allow you to build a unique combination of furniture that perfectly suits your needs and stands out from the crowd. In addition to the options available online, we can configure the units to your requirements and there are endless possibilities available. With QBUS, there are no rules for how you design your furniture or your space; you can choose the look and layout you want entirely according to your requirements, preferences and premises.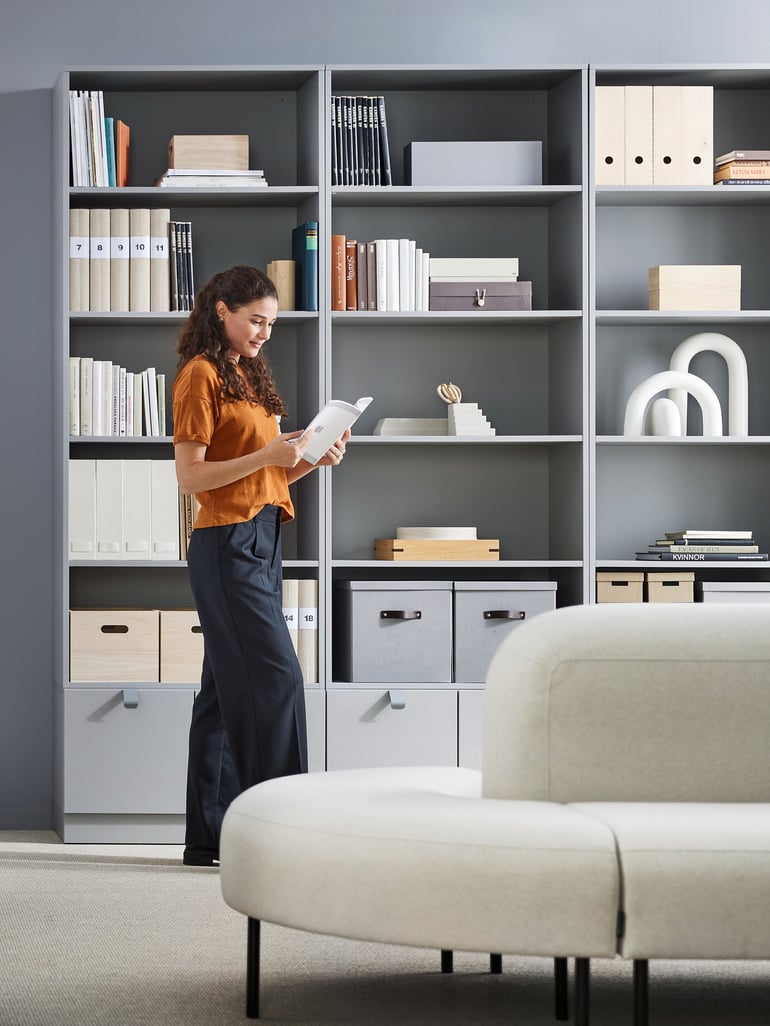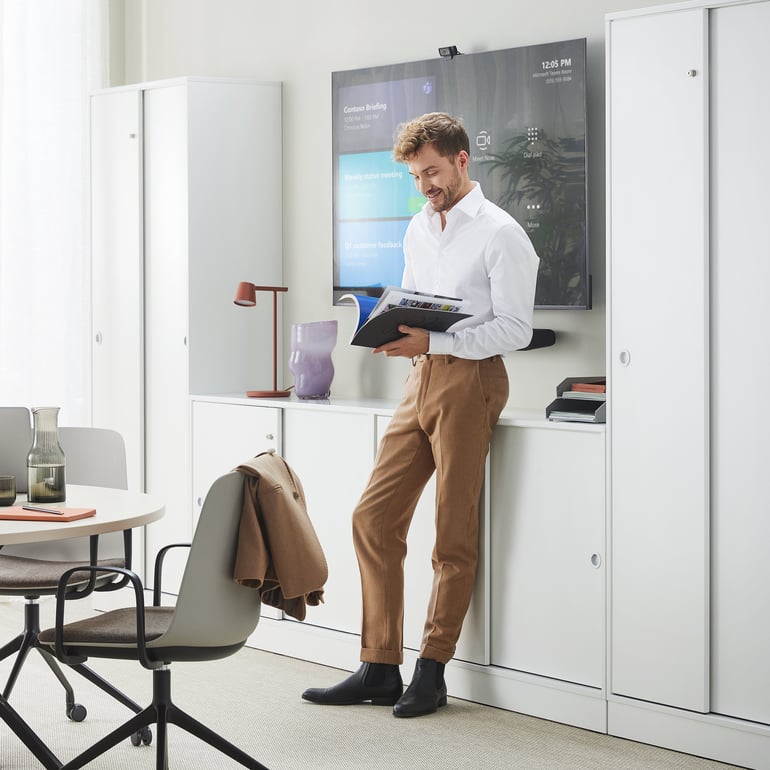 Expand, extend and reconfigure as needed
Is your business growing? QBUS will grow with you. One of the biggest advantages of the QBUS series is that you can easily expand or rearrange your storage as your needs change. The modular concept means that every piece of furniture in the range fits together seamlessly. That means that a compartment locker perfectly matches a large office cabinet and that a low seating bench will sit flush next to a bookcase without any gaps or size discrepancies. If your business grows, you move premises, or you just want to update your layout, QBUS makes it easy for you to change things around.

What's more, many units in the QBUS range can be used as more than just storage. Place several units back-to-back in the middle of the room to create a room divider that separates different work areas or improve privacy around desk areas with tall side cabinets between workspaces. Innovative storage benches provide combined storage and seating, so you could make use of corridors or other underutilised spaces for short conversations while also storing items that you don't need to access on a daily basis.
In-house design from Halmstad
QBUS was designed exclusively for AJ Products at our headquarters in Halmstad, Sweden by AJ's in-house designer, Cecilia Stööp, together with an external designer, Mikael Warnhammar. QBUS comes in a choice of four contemporary colours that go together beautifully. Metal handles provide a contrasting detail as the finishing touch. Those finishing touches have not been overlooked. The handles have a grip-friendly design that is easy to use and they can be fitted in any position either horizontally or vertically so that even this small detail can be adapted specifically to your preferences.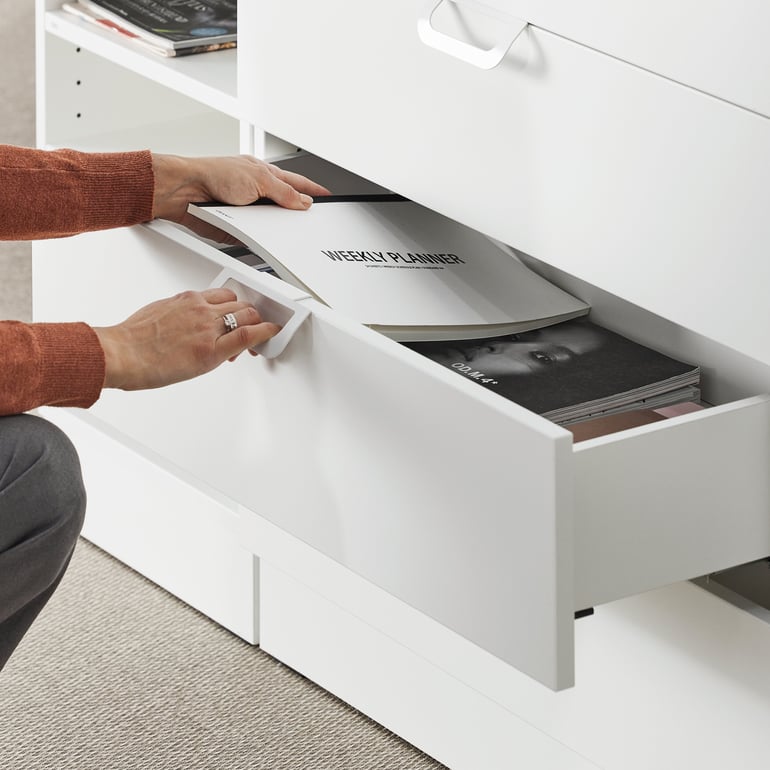 Manufactured in our European factory
QBUS is an in-house developed product that is manufactured in one of our own European factories, which means that we have tight control over the entire supply chain for the new range from first sketch to finished product. We have taken a number of decisions that help make it more sustainable, from shared component parts across different models to flat-packed delivery, which minimises the environmental footprint of the transport. In addition, all furniture in the QBUS series is tested and approved according to EN16121, which is the European standard for storage furniture in public environments. This ensures the strength, safety and durability of the product and, alongside our seven-year guarantee, forms part of our promise that your products will last for many years to come.
More inspiration from QBUS
Get help from our project design experts!
Do you need help creating the perfect office for your business? A space that is both functional and inspiring? Let our design professionals take control: from initial proposal to delivery, we can help you create your ideal workplace at no extra cost!
Get the latest product launches and offers sent direct to your inbox
Do you want to receive exclusive offers, information about new products and inspiration on how you can improve your workplace? Sign up for our free newsletter and be the first to receive our best offers!