Standing desks shown to boost work performance
A 2018 study published in the
British Medical Journal (BMJ)
suggested that sit-stand desks, which allow employees to alter their position during the day, boost work performance and reduce tiredness. The study, which monitored participants over a 12-month period, also found that sitting time reduced by over an hour.
A yearlong study of NHS staff
The study, led by researchers from the Universities of Leicester and Loughborough, followed 146 NHS staff over a one-year period. It investigated the impact of a multi-component intervention (Stand More AT (SMArT) Work) designed to reduce sitting time.

Seventy seven participants were given a height-adjustable desk as well as instructional material and goals for increased standing time while a control group of 69 other staff continued to use their standard desk with no additional support. The research measured the time spent sitting during the working day at the start of the study and then again after three, six and 12 months. It also asked participants to fill in questionnaires about their wellbeing at work to track physical and psychological progress, including mental health factors such as mood and anxiety, as well as work-related factors such as job performance, job satisfaction and occupational fatigue.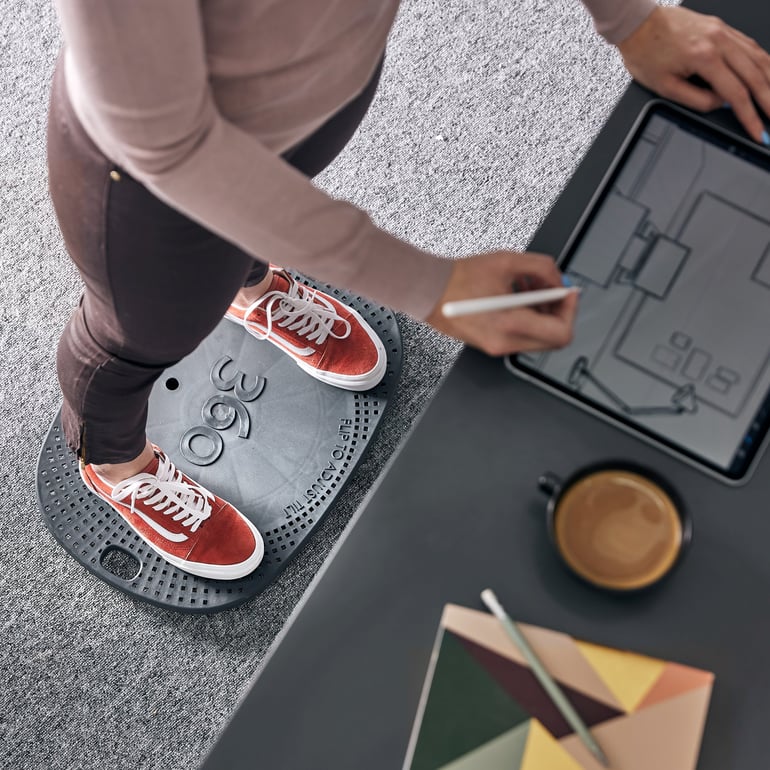 Why is it important to reduce sitting time?
Extensive research has suggested that sitting down for prolonged periods of time can lead to health conditions including obesity, type 2 diabetes, cancer, heart disease and musculoskeletal problems. According to the British Heart Foundation, adults of working age in England, sit for an avergae of 9.5 hours. For office workers, much of that time is spent at work. The new study looked into how sit-stand desks could be used effectively to reduce sitting time among workers with a predominantly sedentary job.
The result? 80 minutes less sitting time per day
At the start of the trial period, the NHS staff involved were spending an average of 9.7 hours a day sitting down. The amount of time spent sitting decreased by over 80 minutes over the course of the study: at three months it had decreased by an average of 50.62 minutes a day, at six months by 64.4 minutes a day and at 12 months by 82.39 minutes a day.

Furthermore, at the end of the study, participants who had been given a standing desk reported better engagement with their work and improved job performance compared to those who continued to use a standard desk. They also reported an improved quality of life and reduced fatigue and anxiety, demonstrating that sit-stand desks have a positive effect on mental wellbeing at work.

The study concluded that the SMArT Work method (which combines a height-adjustable desk with support tools for increasing standing time) successfully reduced sitting time over the short, medium, and longer term, and positive changes were observed in work related and psychological health.
Standing desks save money!
In a 2020 follow up to the study, the research team worked out how much money an employer would save if they ran the SMArT Work programme in their company. They calculated a
cost-benefit analysis
that compared the costs to the productivity saving.
1.75 hours per week increase in productivity
£2.56 return on investment for every £1 spent
Savings could increase to £4.72 per £1 with simpler tools and equipment
Employee productivity improved by an average of 1.75 hours per week over a 12-month period.
It was calculated that the programme had a return on investment of 256%. That is for every £1 spent, £2.56 was gained as a result of increased productivity (based on a total cost of £692 per employee).
Further analysis showed that when staff used more cost-effective equipment and free methods, such as electronic timers, for tracking their sitting time and providing reminders (at a cost of £430 per employee), the return on investment would increase to 472%, resulting in £4.72 back for every £1 spent!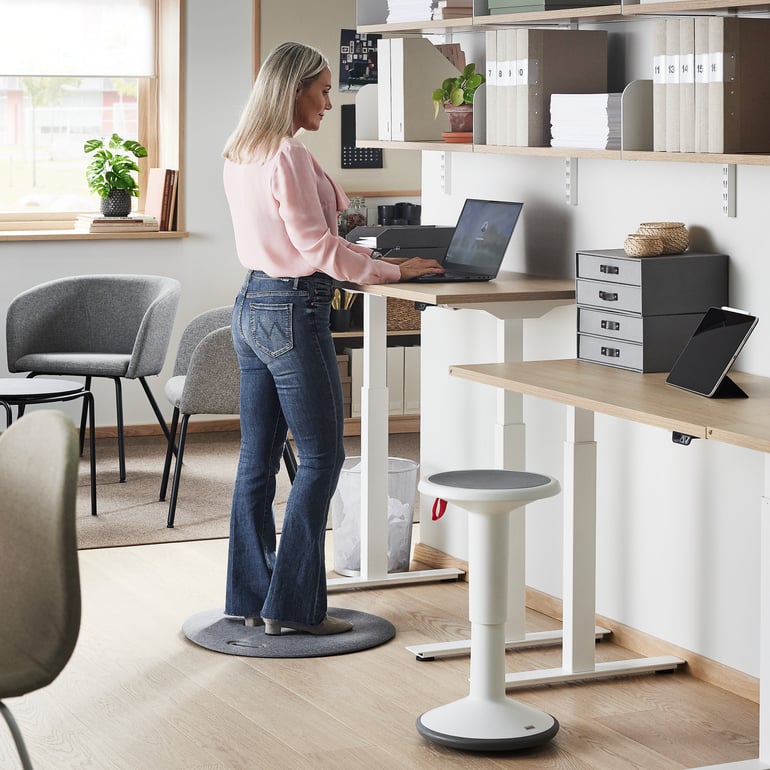 A new study in 2022
In the largest study of its kind worldwide, researchers expanded the SMArT Work programme into the SMART Work and Life programme and tested it with a group of 756 council workers. Find out more about how the programme was three times more successful when combined with a height-adjustable desk, reducing sitting time by over an hour every day!
At AJ Products we think staying fit and healthy should be something that anyone can do. That's why we're a member of ukactive. We want to make every workplace happier, healthier and more active!
Get the latest product launches and offers sent direct to your inbox
Do you want to receive exclusive offers, information about new products and inspiration on how you can improve your workplace? Sign up for our free newsletter and be the first to receive our best offers!