Height-adjustable desks shown to reduce sitting by over an hour a day
In a
new study
, researchers examined the effectiveness of a programme designed to decrease sitting time. They found that, alone, the programme lead to office workers sitting for 20 minutes less a day but, when used in combination with a
standing desk
, it was three times more successful and had the effect of reducing the amount of sitting time each day by just over an hour.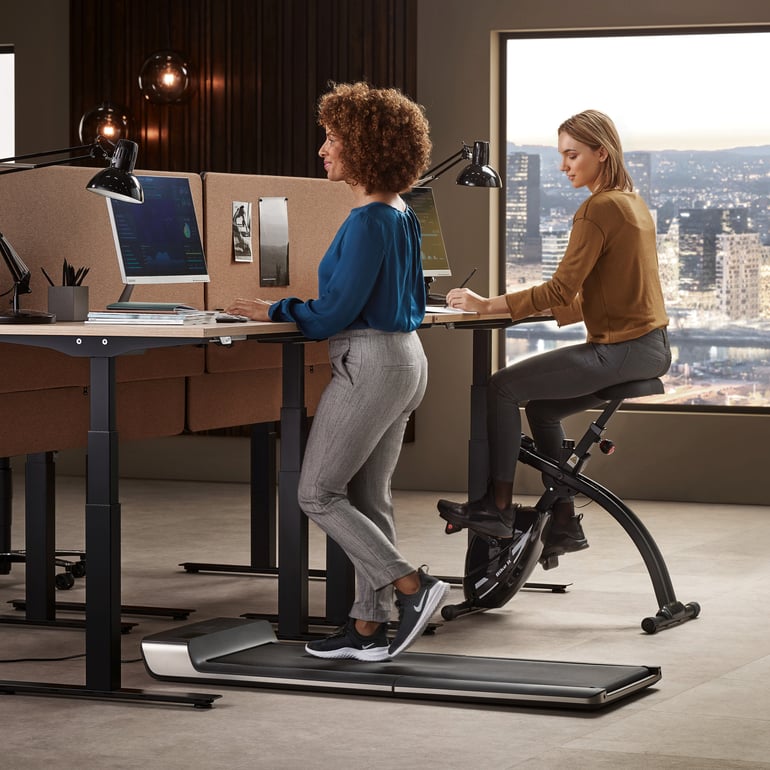 What is sedentary behaviour?
Sedentary behaviour is any waking time spent sitting, reclining or lying down. This could include time spent sitting at a desk at work, commute time and leisure activities such as watching TV, playing video games or reading.
Why is it important to reduce sitting time at work and at home?
Evidence suggests that extended sitting time is associated with a higher risk of cardiovascular disease, type 2 diabetes, certain types of cancers and mental health concerns including anxiety and depression, as well as a lower quality of life in general.
Office based workers are one of the most sedentary groups, spending 73% of the workday and 66% of the waking day sitting down.
How the study was carried out
The study monitored 756 desk-based workers at six local councils in Leicester, Greater Manchester and Liverpool. The participants were split into three randomised groups.
Group 1 followed the SMART Work and Life programme but was not provided with a height-adjustable workstation.
Group 2 received the SMART Work and Life programme as well as a height-adjustable desk, which meant they could sit or stand while working at their desk.
Group 3 acted as a control group and made no changes to their usual working practices.
Behaviour was tracked at the start of the study and again after 12 months to assess the impact of the changes.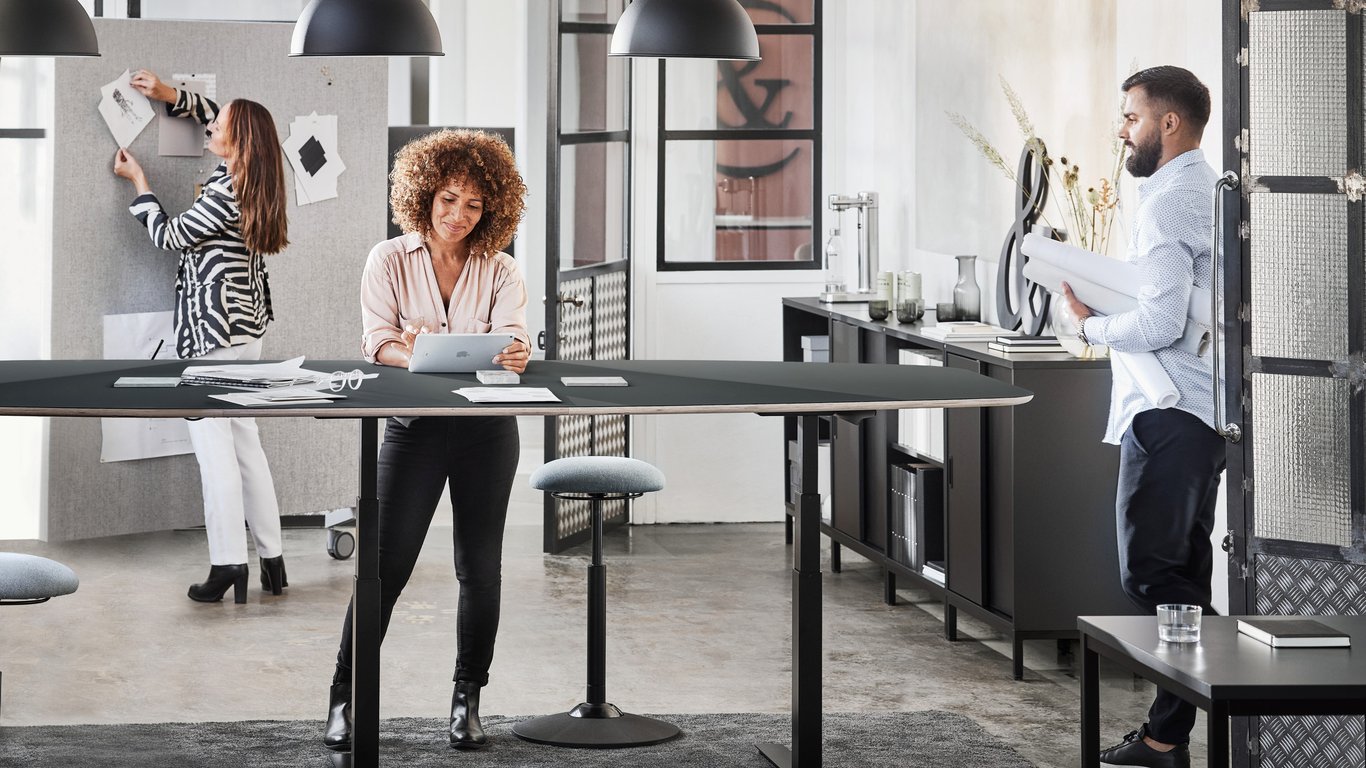 The result: sitting time reduced by 63 minutes a day
Researchers found that people using the SMART Work and Life programme (group 1) sat for 22 minutes less per day (compared to the control group). However, for participants using both the SMART Work and Life programme and a height-adjustable desk (group 2), this tripled to 63 minutes a day. Meaning more than an hour extra spent standing up while at work!
Both groups also reported small improvements in stress, wellbeing, and vigour, while the group that received a standing desk also reported slight improvements in pain in the lower body. 
You can read the full study in the British Medical Journal (BMJ):
Effectiveness of an intervention for reducing sitting time and improving health in office workers: three arm cluster randomised controlled trial
What is the SMART Work and Life programme?
The SMART Work and Life programme includes training "workplace champions", educational resources, ongoing behaviour change support and a set of apps and software to monitor sitting time.

The programme was developed and the study carried out by researchers at the National Institute for Health and Care Research (NIHR) Leicester Biomedical Research Centre (BRC), working with academics from the University of Salford and University of Leicester. The study is the largest to date focused on programmes aimed at reducing sedentary behaviour in the workplace.


Standing desks shown to boost work performance
Previous research into the how the Stand More AT Work (SMArT Work) programme and a sit-stand desk could reduce sitting time followed 146 NHS workers over a period of 12 months. The results showed 80 minutes less sitting time at the end of the study as well as improvements in productivity and fatigue.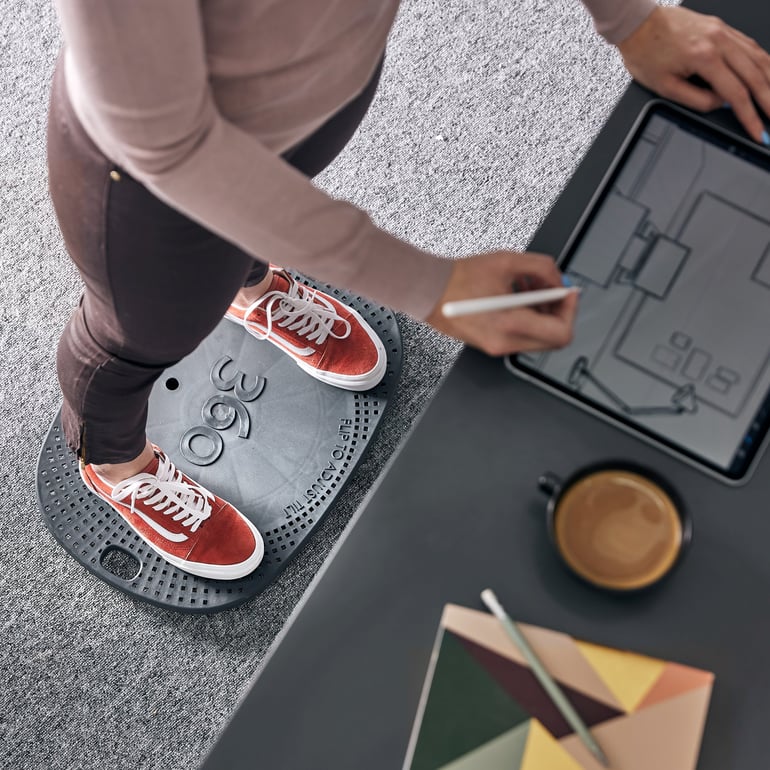 Browse height-adjustable desks
Get the latest product launches and offers sent direct to your inbox
Do you want to receive exclusive offers, information about new products and inspiration on how you can improve your workplace? Sign up for our free newsletter and be the first to receive our best offers!